by Dan Frieth, Reclaim the Net, Jan. 2, 2021
Twitter says it has suspended Congresswoman Marjorie Taylor Greene's personal Twitter account for sharing COVID "misinformation."
The Georgia Republican rep's account @mtgreenee was deleted today.
Greene is one of the rare elected politicians to have their personal account banned by the social media platform as Twitter gets more brazen with its approach to censoring specific voices.
It is not yet clear what specific statement Twitter used as a reason to shut down Greene's account but Green's statement suggests that it was for posting data from VAERS, the official database that collects information on adverse vaccine reactions.
In a statement posted to alternative social media platform GETTR, Greene said: "When Maxine Waters can go to the streets and threaten violence on Twitter, Kamala and Ilhan can bail out rioters on Twitter, and Chief spokesman for terrorist IRGC can tweet mourning Soleimani but I get suspended for tweeting VAERS statistics, Twitter is an enemy to America and can't handle the truth."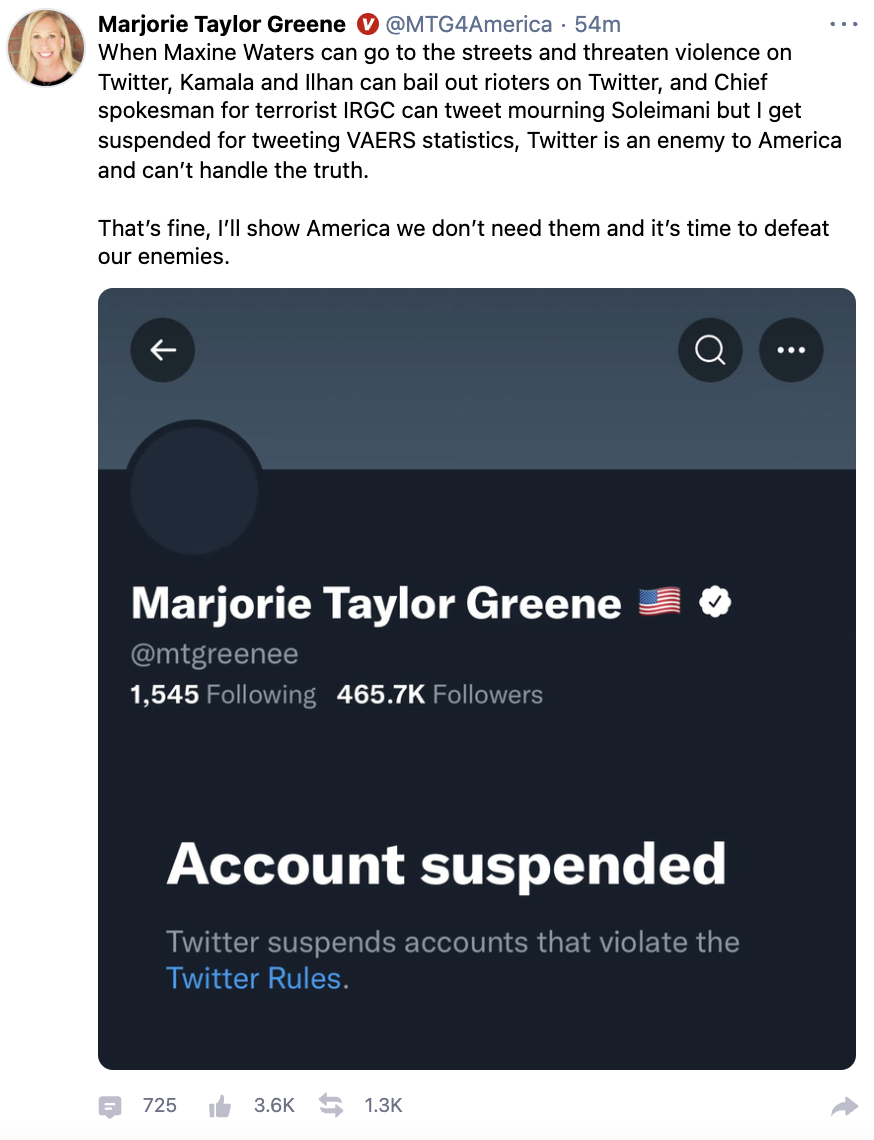 Greene's suspension came almost one year after the banning of President Donald Trump from the platform.
In a statement, Twitter said, "We permanently suspended…@mtgreenee… for repeated violations of our COVID-19 misinformation policy. We've been clear that, per our strike system for this policy, we will permanently suspend accounts for repeated violations of the policy."
Twitter said that Greene had five "strikes" on her account which, under the current rules, means her account will never be restored.
Twitter apparently gave Green her fourth strike in August when she said that the vaccines were "failing," as they weren't stopping the spread of COVID.
She had a third strike just weeks before when she had said that COVID was not particularly dangerous for those who weren't over the age 65 or those who aren't obese.
Last month, Twitter had faced calls from activists to shut down Greene's account after she spoke out against school shutdowns.
"Every single year more than 600,000 people in the US die from cancer. In 2021, an estimated 608,570 people will die of cancer in the United States. The country has never once shut down. Not a single school has closed," Greene had said.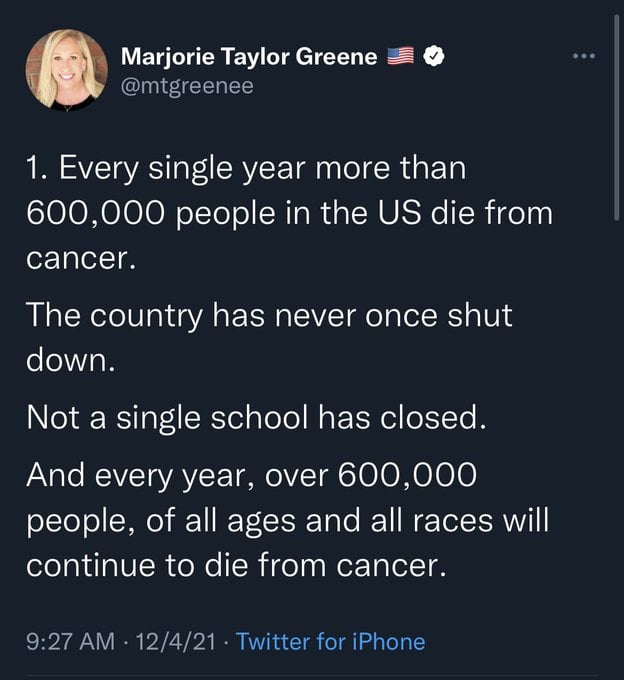 Congresswoman Greene is no stranger to Twitter censorship. She has been locked out of her account on at least four occasions in the past.
Dr. Robert Malone embraces alternative social networks after Twitter ban. And others are following.
by Christina Maas, Reclaim the Net, Jan. 2, 2021
Following his ban from Twitter, Dr. Robert Malone, one of the pioneers of mRNA technology, has embraced free speech social media platforms GETTR and Gab. He was banned from Twitter for violating policies on "misleading information" about Covid and its vaccines.
Dr. Malone is a vocal critic of mandating Covid vaccines, particularly in children. In a recent Substack post, he said: "The risk of death associated with COVID-19 in healthy children is virtually non-existent, as children have significant immunologic advantages relative to the older adult population (> 65 years) which comprises the high-risk cohort for COVID-19."
Dr. Malone continued to argue that the Omicron variant, which has less severe symptoms, should not be a reason for mandating vaccination in children.
His Twitter account, which had over half-a-million followers was suspended specifically, for: "Violating our policy on spreading misleading and potentially harmful information related to COVID-19. You may not use Twitter's services to share false or misleading information about COVID-19 which may lead to harm."
In an interview in Joe Rogan's podcast, Malone criticized the ban, saying he should be allowed to discuss the Covid vaccines considering he helped develop the technology behind them.
If you're tired of censorship, cancel culture, and the erosion of civil liberties subscribe to Reclaim The Net.
Also, Alex Berenson sues Twitter:

Twitter Was Just Nailed with the Censorship Lawsuit That Conservatives Have Been Hoping For
Chicks on the Right, Dec. 28, 2021
Conservatives just received some exciting news that they have been hoping for.
Alex Berenson, who is a veteran journalist and best-selling author on Covid-19 issues, has filed a lawsuit against Twitter.
Big tech has been guilty of censoring the speech of anyone with whom they disagree.
Twitter is accused of banning Berenson from the platform and ruining his reputation.
Making matters worse, Twitter is accused of colluding with the Biden administration to violate Berenson's rights, despite the fact Berenson has often been correct about the virus and vaccines.
The lawsuit explains how Twitter took significant action over the course of one week in July 2021.
On Sunday, July 11, Dr. Fauci, who is Biden's Chief Medical Advisor, called Berenson's comments about the Covid-19 vaccines "horrifying."
Later that same week, Biden blamed social media giants like Twitter for "killing people" by failing to censor content.
Hours after Biden's comment, the lawsuit argues, Berenson was suddenly barred from his acount.
The lawsuit states, "Mr. Berenson also has a uniquely viable claim that Twitter acted on behalf of the federal government in censoring and barring him from to its platform."
"Twitter's censorship is selective, enforced against conservative political leaders with views distasteful to the woke elite in Silicon Valley—and against independent journalists like me, who have raised questions about our response to COVID that public health authoritarians cannot tolerate," Berenson writes.
More from Trending Politics:
The background to Twitter's censorship of Berenson harmed the public interest and the critic was proven right on several occasions.
"During 2020 and 2021, Mr. Berenson became a prominent critic of the governmental and public health response to the COVID-19 pandemic," the lawsuit states. "Mr. Berenson made many statements on Twitter which, although controversial at the time, have since become conventional wisdom, most notably about the profound harm to children caused by remote learning and unnecessary school closures."
While Twitter initially reassured Berenson he would be given free reign to pursue his journalism, the Big Tech platform began its suppression of his tweets in reaction to disparaging statements from Dr. Anthony Fauci and the Biden administration.
"On August 28, in the wake of even more calls for censorship from government officials, Twitter permanently suspended Mr. Berenson from its platform, citing 'repeated violations of our COVID-19 misinformation rules'," the lawsuit notes. "Mr. Berenson did not violate those rules. Twitter, on the other hand, broke its promises to Mr. Berenson as well as its policies, and violated his rights as it served the federal government's censorship demands."
This is where the rubber-meets-the-road when it comes to Big Tech censorship (as well as vaccine mandates): If a company is carrying out a government's demands that would otherwise violate a citizen's Constitutional rights, then it is essentially acting as an agent or instrument of the government itself. This fascism should not be allowed to stand in a U.S. court of law.