[comments in square brackets]
(1) Regarding the trucker's convoy and the government's smear tactics (by Think for Yourself)
(2) A message from No More Lockdowns Canada
(3) Good and bad politicians these days in Canada and the U.S. (by Think for Yourself)
(4) Various articles by Dr. Paul Alexander
(5) Walmart introduces vaccine passports in Quebec
and LinkedIn censors article criticizing Big Tech censoring for China
(6) Tucker Carlson segment in which Berenson speaks against the mRNA injections
and response by Berenson to his critics: Vaccine fanatics say the darnedest things
(1) Regarding the trucker's convoy and the government's smear tactics
The mainstream media such as CBC and CTV have effectively committed treason against Canada by lying to the public for the last two years. In addition, Trudeau and his cohorts should be arrested and tried for treason and also for crimes against humanity for their countless lies and deceptions.
Now they are trying to distract us from the convoy's message by smearing the organizers by implying the GoFundMe funds will be mismanaged. It's a lowly tactic for smearing your opposition. Leftists like to smear their opponents with ad hominem arguments. It's typical of the Trudeau camp to resort to these kinds of under-handed tactics. They are criminals and thieves after all.
What I like best about this convoy is seeing photos of people along the side of the road giving support. Canadians — and the world –have been beaten into near-submission for two years but what we're seeing with this convoy is a rising up of subjugated peoples against medical tyranny.
The UK dropped the mandates. Hopefully the rest of the world will too. Though it won't happen without considerable effort. The so-called 'vaccines' are killing and injuring far more people than officials are willing to acknowledge; plus they don't prevent transmission or infection and the disease itself is now relatively benign.
As I never tire of saying, this never was about disease control or public health. All along – as some of us realized early on – this was really about profit and power — specifically transferring trillions of dollars from us to a small monied elite and transferring all our power to the hands of power-hungry globalists and the CCP.
This is a war against humanity by a small, powerful elite. But their power is illustory: if enough of us do not comply they will have no more power. We have the power of numbers. And the undying – though often subdued – thirst for freedom in the human spirit will eventually triumph over this evil perpetrated by Trudeau and those he answers to:
The Lord says: "I will contend with those who contend with you, and I will save your children." Isaiah 49:25
"For the ruthless shall come to nothing and the scoffer cease, and all who watch to do evil shall be cut off" Isaiah 29:20
"I will deliver you out of the hand of the wicked, and redeem you from the grasp of the ruthless." Jeremiah 15:21
In other words, good will eventually triumph over evil, but not without a long arduous fight – which may be still in its infancy. We may still have many years ahead of us in this fight. It could get much worse – but even so, evil will be vanquished in the end.
I suppose I can forgive people for believing it was about disease control, since that was the dominant narrative, but if you still believe that now, you are willfully avoiding facts that are staring you in the face. Millions of people fell under the sway of mass hysteria, of mass psychosis, due to a bombardment of media lies.
They've orchestrated the largest propaganda campaign in human history. Goebbels would be in awe of it. But just as the Nazis were eventually defeated, I believe the empire of the medical fascists will also fall. We just have to keep pressing ahead.
As a good Christian friend of mine has recently reminded me, prayer is an important part of all this, and it's important to keep praying for God's guidance. We can't do this alone.
I sent the above message in an email to a friend and she wrote back: "Your words are uplifting though sobering. Yes, it may be a long struggle of many years. I fear it will be. I just hope I will be up to the challenge."
That's true: many people talk about this all being over soon. But in reality, as long as globalists think they can get away with subjugating the public in this way, they'll do so. The only time they'll stop is when the public fights back and says enough. Our compliance won't make it stop.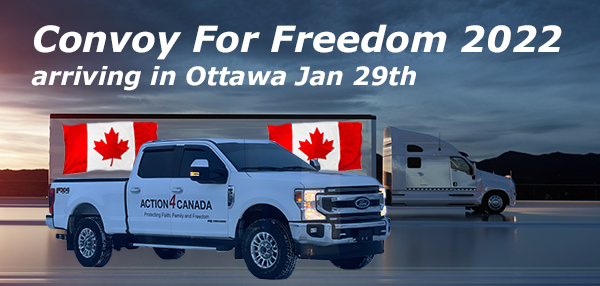 From the Canada-Unity site: Watch Justin Trudeau LITTERALY tell us he does NOT care about our fundamental charter rights! Transcribed text of what Justin Trudeau says:

"Regardless of the fact that we are attacking your fundamental rights or limiting your fundamental rights, and the charter says that is wrong. We're still going to go ahead and do it, it's basically a loophole that allows a majority to override the fundamental rights of a minority."
The documentary Trucking for Freedom is coming soon.

(2) A message from No More Lockdowns Canada
This past weekend was a major turning point in the campaign to regain our freedoms, a struggle we have been facing for almost two years. Impassioned citizens took to the streets globally for the "Worldwide Rally for Freedom", turning out crowds of tens of thousands. Across Canada and Ontario, there were major demonstrations in every locality, even in places that have not yet seen any major pushback against lockdowns and mandates.
MPP Randy Hillier and PPC leader Maxime Bernier traveled to the Greater Toronto Area to speak to the crowds assembled at Queens Park, Port Credit and at the Town Square in Waterloo. Despite the cold weather, these events were the largest we've seen yet. The support behind our movement will continue to grow the longer our governments cling to their failed narrative and as we head into warmer weather.
MPP Hillier had some choice words for Justin Trudeau, accusing the Prime Minister of terrorism for knowingly accellerating the collapse of our food supply chain by imposing vaccine mandates for truckers, despite being warned of the consequences. It is becoming increasingly obvious that we are headed towards crisis, with bare grocery store shelves becoming the new normal across Canada. 
Watch this video on Twitter, Facebook, Instagram and Telegram and Odyssee
FREEDOM CONVOY TO PARLIAMENT HILL
Something truly historic is underway and is giving inspiration & hope to Canadians across the country. In response to the imposition of vaccine mandates for cross border truck drivers, grassroots organizers have launched a cross country truck convoy to Ottawa. This mobilization is smashing records, with current fundraising efforts exceeding $4,500,000, the convoy rapidly approaching 100km in length, and thousands upon thousands of Canadians turning out in parking lots, on top of highway overpasses, and lining the streets of towns and cities to offer their sincere heartfelt support to all the truckers participating.
As hard as it has been during these past two years for liberty oriented citizens like us, the recent outpouring of support for the freedom movement suggests that we have finally awakened the critical mass of citizens that is required to influence meaningful change in society. We have accomplished this together, through all our hard work rallying in the streets and steadily uniting more and more people behind common sense principles of individual liberty.
MPP Randy Hillier and Maxime Bernier are encouraging all Canadians who can make it out to join with the truckers on Parliament Hill next weekend. If you can't make the demonstrations on the 29th and 30th in Ottawa, please consider turning out along the convoy route as they pass through to show them your support. You can access information on the convoy routes HERE.
NML Canada will soon have more updates regarding our efforts to support the convoy, as well as specific itineraries for the demonstrations in Ottawa. If you would like to support our volunteer efforts to provide the truckers with food & lodgings in Ottawa or volunteer to help out, contact Jason at 1-249-878-4959. Follow us on twitter, facebook and telegram for the latest updates and new convoy routes and how you can support this historic convergence of freedom fighters. Please consider making a donation to No More Lockdowns.
We sincerely appreciate your support, and we look forward to seeing you out for the convoy!
(3) Good and bad politicians these days in Canada and the U.S.

Politics is a cesspool of corruption, but there are a few who have stood out as principled in this fight against medical tyranny and a few who have stood out for their villainy and deceit.

What I notice about the lists is that one can't judge based on political party; each politicians must be judged on what they do and say as individuals. For example, Tulsi Gabbard is a Democrat, but she's good, while Doug Ford, although a conservative is not good.
In Canada:
The Good: anyone who stood against medical tyranny
The Bad: anyone who perpetrated medical tyranny
U.S.A.
The Good:
Marjorie Taylor Greene
Ron DeSantis
Tulsi Gabbard (a Democrat, but principled, which I respect)
Any politician who contests medical tyranny – there are several now
The Bad:
Rashida Tlaib, Ilhan Omar, Maxine Waters, Kamala Harris, Joe Biden, Alexandria Ocasio-Cortez, Hillary Clinton, Elizabeth Warren, Lori Lightfoot, Bill deBlasio, Bernie Sanders, Barrack Obama, Adam Schiff . . . the list of corrupt Dems goes on and on.

RINOs, e.g. Liz Cheney, Mitt Romney, etc. RINOs are 'Republicans in Name Only' – politicians who are corrupt and compromise with Democrats too much and thereby betray the American people.

About Donald Trump: I used to support him but after he listened to Fauci and went along with the lockdown he lost my support, even though he's good on other issues, such as support for freedom of religion, border control, standing up to China, and putting America first. But he made a big mistake with the pandemic response. Even so, the Dems and media used the opportunity to smear him unjustly in a disgusting spectacle of hatred and hysteria they should be sorely ashamed of.
(4) Dr. Paul Alexander. He is a prolific Canadian commentator. Here are just the latest entries . The entries tend to be on medical issues but he has a strong position against medical tyranny as well.
OMICRON resistance to vaccinal antibodies (Abs) is PERFECT; vaccinal Abs will no longer 'outcompete' the INNATE antibodies (in children/young persons) thus INNATE are 'set free' to STERILIZE the virus
10 second video with all scientists just before we spoke at DC rally, Sunday 23rd January end the mandates; meeting Kennedy to me was beautiful, such a misunderstood wonderful advocate
"Psaki Says It's 'Crazy' for DeSantis to Push Monoclonal Antibody Treatments For Omicron"; that is their problem, they cannot even keep track of their lies or deceit, they trip up over and over
'Your great-great-great-grandchildren will still be getting immunized against coronavirus': Mayo Clinic Expert predicts COVID-19 will be around until NEXT CENTURY
NEGATIVE EFFICACY: U.K. Health Agency first "COVID-19 vaccine surveillance report" of 2022, collates infection rate data for the final weeks of 2021 (weeks 49-52); a DEVASTATING REPORT
NORWAY and SOUTH AFRICAN Omicron evidence; does Omicron impede our emergence from COVID-19 and change our proposed 15 point plan/steps? No and in fact OMIRCRON tells us COVID is over! DONE!
So you say "Dr. Alexander, you keep raising concern about the vaccines, where is the proof? Is there any evidence? Anything, a study or two besides what you, McCullough, Malone, Tenenbaum, Risch say?
(5) From Reclaim the Net:

Walmart introduces vaccine passports in Quebec, will require the unvaccinated to be escorted by staff as they shop
[Recall that Walmart also killed countless small businesses, is a major gateway for Chinese goods into the West, and financially supported the Marxist terrorists BLM]

Walmart has introduced a two-class vaccine passport system in the Canadian province of Quebec which restricts those without proof of vaccination to grocery and pharmacy products only and requires them to wait in a box before being escorted by staff as they shop.
[Why is this important? Because Wal-Mart is not just a store; it's a grocery store, and if they start blocking people from getting food, in addition to an unconstitutional fine for not agreeing to a toxic injection against your will, that takes medical segregation to another level. It opens the way for grocery stores to do the same. Needless to say, none of this has any scientific validity.]
Under the new rules, those who show proof of vaccination will be free to shop. Those who don't show proof of vaccination will be told to wait in a blue box until a member of staff is available to escort them as they shop. This member of staff will then follow them around the store and make sure they don't buy any prohibited goods.
The new restrictions were introduced in response to an expansion of Quebec's vaccine passport rules which now require all stores with surface areas of 1,500 surface areas or more to demand that customers show a vaccine passport unless they're shopping for groceries or pharmacy products.
This two-tier vaccine passport system has been blasted by store owners with many expressing concern about potential backlash from customers and their struggles to find staff to enforce this vaccine passport system amid ongoing labor shortages.
"Mainly, we're disappointed, especially after being considered an essential business for two years," Patrick Delisle, marketing director for the Canac hardware and construction chain, told the Montreal Gazette.
"We'll need to tell clients we can't serve them and, because of the delays it causes, there will be moments when it's minus 30 outside and there could very well be 50, 60, or 75 people waiting in line," Delisle added.
Delisle said Canac has hired GardaWorld security guards for each of its 31 stores and will be assigning one or two employees to the task of vaccine passport enforcement at each store. He estimates the cost of complying with the new rules will be a staggering $100,000 per week.
On Twitter, Walmart's vaccine passport rules also faced mass pushback with "#BoycottWalmart" trending for several hours and Twitter users describing the measures as "cruel and humiliating" and the blue box as "a box of shame for the unvaccinated."
The introduction of vaccine passports at Walmart and other big-box stores follows the Quebec government mandating vaccine passports in alcohol and cannabis stores last week.
This vaccine passport expansion is the latest example of how this technology, which was initially positioned as a way to slow the spread of the coronavirus, is being used to surveil the population and crush civil liberties.
Related: How vaccine passports are crushing freedom, privacy, and civil liberties
The Centers for Disease Control and Prevention (CDC) has already admitted that Omicron breakthrough infections in people who are fully vaccinated are "likely to occur" and Canada's Council of Chief Medical Officers of Health (CCMOH) says that it's still "gathering information on how well vaccines work against transmission."
Despite these admissions from leading health authorities and groups, vaccine passport systems continue to expand and impose additional burdens on the unvaccinated.
Queensland recently announced similar rules that will allow essential businesses like grocery stores and pharmacies to introduce vaccine passports. In Italy, vaccine passports have been mandated in banks and post offices – a policy that could make it difficult to claim their pensions. And in Washington, vaccine passports have been combined with photo ID.
French President Emmanuel Macron went one step further in a recent interview where he acknowledged that he wants to "piss off" those without a vaccine passport.
In an interview with the Montreal Gazette, Dr. Benoît Barbeau, a virologist at the Université du Québec à Montréal, said he believes the latest vaccine passport restrictions in Quebec are largely punitive in nature and noted that while it's possible for transmission in larger stores, he believes they're less risky than smaller, more contained spaces.
CENSORING CRITICISM

LinkedIn censors article criticizing Big Tech censoring for China

Microsoft's LinkedIn has removed a post about Peter Schweizer's book Red-Handed, that explores connections between US elites, including those belonging to Big Tech, and Chinese authorities.
. . . Breitbart reports that the post got deleted for violating the social network's professional community policies. The user evidently asked for clarification about what specific rules were broken, and was reportedly told it was the guidelines on "bullying."
Who or what was being bullied here is unclear, but censoring content for criticizing China is not a first on Microsoft's platform, which is trying very hard to maintain its presence in that country. On the other hand, Schweizer, an investigative reporter, claims in his book that Microsoft is involved in joint artificial intelligence research projects with China's military.
Microsoft has developed two sets of rules, one for content visible in China, the other for everybody else, although there have been instances of LinkedIn users located outside of China being censored for content critical of the Beijing regime.
Last September, Axios reporter Bethany Allen-Ebrahimian tweeted that LinkedIn blocked her profile in China, noting that in the past, this was done by Chinese censors or Chinese companies in China, but that now a US company was censoring Americans. Allen-Ebrahimian writes about China and internment camps in the Xinjiang region.
In his book, Schweizer accuses US elites – including Big Tech leaders, members of presidential families, big Wall Street players, top athletes and universities – of being happy to work with China for their own gain, neglecting that of their country. The result of that, Schweizer writes, is that some of the richest Americans are helping China build its rising military, tech, and economic empire.
[See my past posts on the CCP and the threat of Communism:
(6) [The video and article below are with regard to the Tucker Carlson segment in which Berenson spoke against the mRNA injections.

I tried to find the video and was inundated on the search engines with anti-Berenson smear jobs from the MSM. I finally found this video (below) after 5 minutes of searching. The MSM has flipped out over this segment, hysterically accusing Fox of "killing people" because Carlson aired this segment. And the censorship on this one is insane.

All that Berenson says is that based on the international data, people who get the injections are more likely to get Omicron — which is factually true. He then concludes that public health officials, if they're being responsible, would advise stopping all injections until more is know about the risks.

True, but since the health care industry is corrupt and working for Big Pharma there is either silence or complicity in the smear against Berenson. The MSM are the ones guilty of mass murder so they displace that guilt onto those who exposed them. Below is Berenson's response to some of the MSM hysteria and panic.

Reminds me of the Gandhi quote: "First they ignore you, then they laugh at you, then they fight you, then you win." Now they're fighting because their house of cards is crumbling and they know it.]
Apparently Big Pharma has never lied before
[sarcasm, obviously] by Alex Berenson, Jan. 26, 2022
The public health authorities are MAD. The bluecheck [Twitter] media types are even MADDER. I am much more powerful than I thought.
My four-minute-appearance last night on Tucker Carlson has disrupted the heretofore incredibly successful Covid vaccine experiment. The good folks of America were lined up patiently for their boosters, or their double-boosters, or the super-duper-special-Omicron booster (coming soon, from Pfizer, in cherry flavor!). Then they heard me and threw off their coats and dove into the sea.
It was mass formation psychosis! Or double-secret hypnosis! Or something.
And I all I had to do to destroy America was tell Tucker (with complete accuracy) about the incredible rise in Covid infections and hospitalizations in highly vaccinated countries, and the evidence mRNA vaccines will not work against Omicron. You are getting very sleepy…
Now Twitter is filled with arguments over whether I'm grifter or delusional or maybe a delusional grifter. Sorry, kids, none of the above. I just follow the data. And read the papers. You know, reporting! It's fun and exciting. But Philip Bump of the Washington Post has earned a special place in my heart.
Last May, Mr. Bump [APOLOGIES AND CORRECTION, THIS WAS NOT BUMP – IT WAS AARON BLAKE, ANOTHER GENIUS FROM THE WASHINGTON POST; MY ERROR] wrote an article about the "worst coronavirus predictions." I was high on the list for my concerns about Israel, the first country to mass vaccinate with the mRNA vaccines – and later the first to boost.
As Bump [CORRECTION: BLAKE] wrote:
Three months later, with Israel having set the worldwide standard for its vaccination program, the country is a massive success story.
That was eight months, two waves, and two boosters ago. The success story just keeps getting massiver.
But that piece isn't even why I'm mentioning Bump today. [AND IT SHOULDN'T BE – HE DIDN'T WRITE IT.]
Nope, this morning Bump decided to write about me again, in response to my comments last night. And in the middle of the piece he launched into a full-throated defense of the honesty of pharmaceutical companies.
To wit: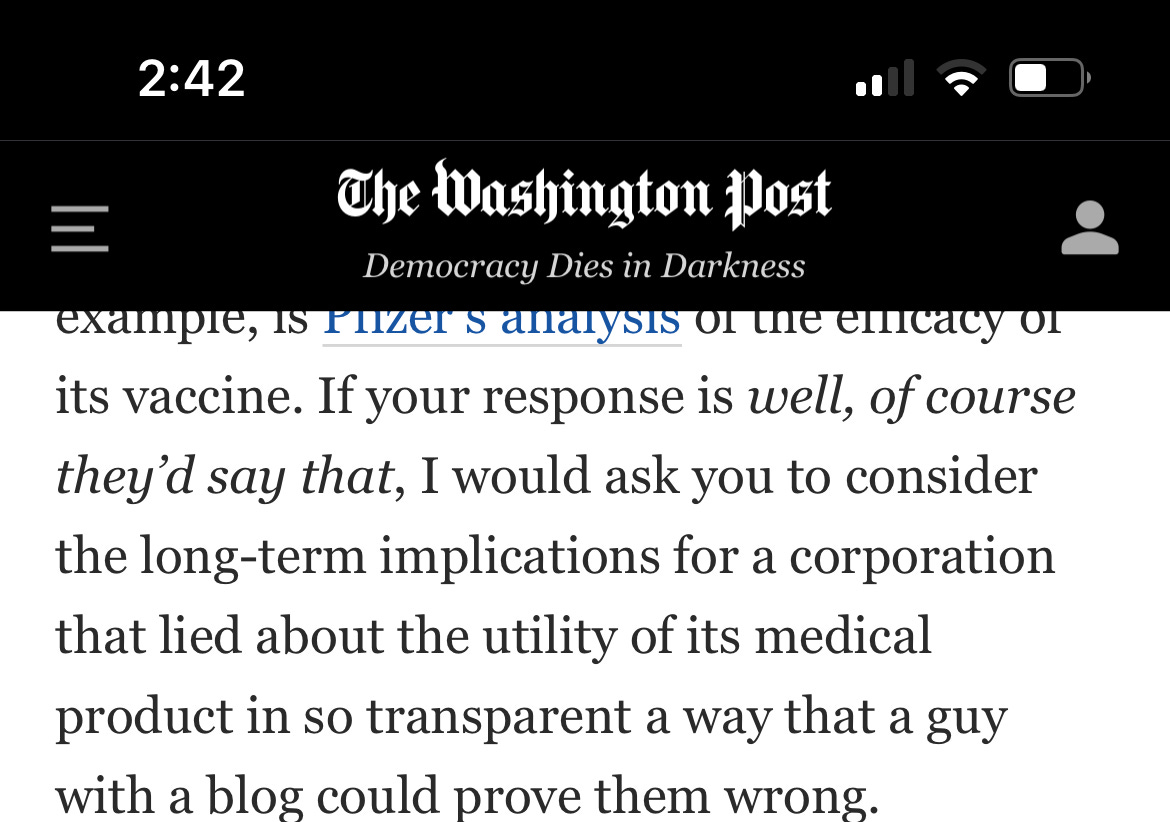 Imma just leave a few articles from Bump's own newspaper here: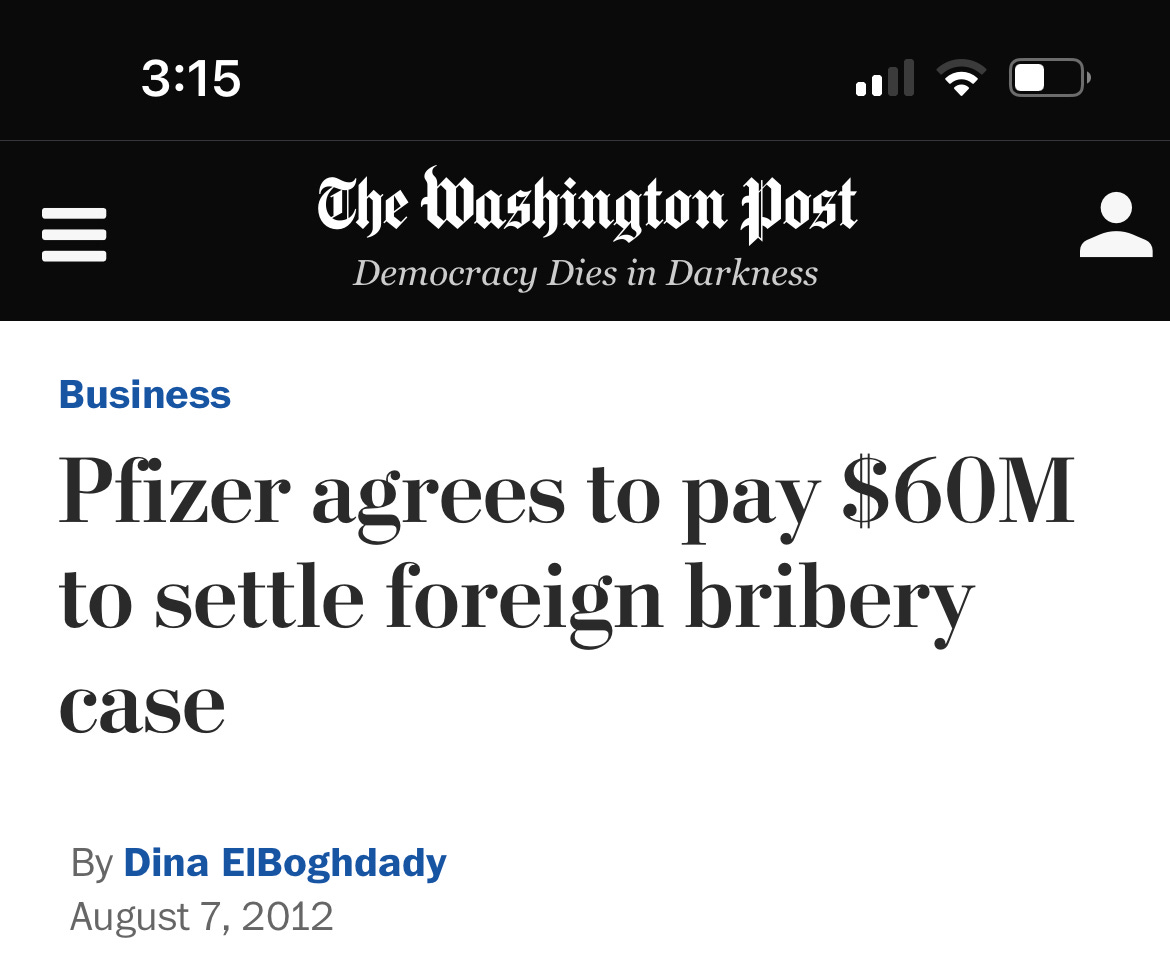 Oh, wait, this one's from the Department of Justice:
But don't worry, Phil – no one would EVER lie about or overstate vaccine efficacy or hide side effects. Because that would be wrong. And there's so much money on the line.
And we all know: the more money is at stake, the better pharmaceutical companies (or any companies) behave. It's a fact!
Sorry, Phil, I'd love to talk more, but I have to get back to hypnotizing the country.