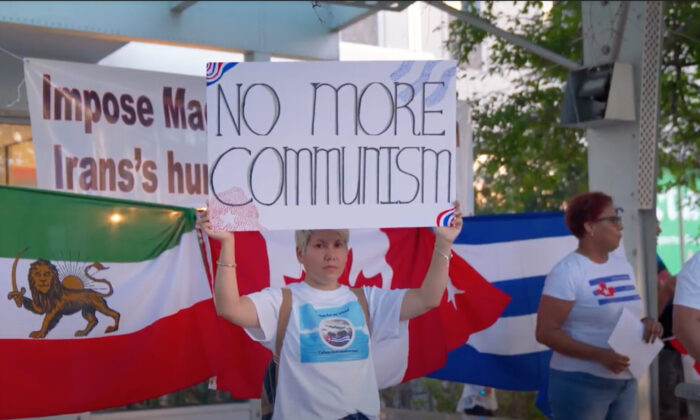 By Isaac Teo , Epoch Times, Sep. 13, 2021
A group of protesters, including members of Canada's Iranian and Cuban communities, rallied outside the constituency office of Liberal Leader Justin Trudeau in Montreal on Sept. 11, calling on Canadians to join them in condemning communism and terrorism.
"We are here against communist and terrorist regimes, like the Chinese Communist Party, like Fidel Castro's regime and like the Islamic regime who occupy my beautiful homeland, Iran," said event organizer Salman Sima, an Iranian refugee who came to Canada in 2011, during the rally.
The event, at which protesters held signs reading "No more communism" and "Dictatorship is killing the Cuban people," called on Canadians to unite against terrorist and communist regimes around the world. The rally date was chosen to coincide with the 9/11 attacks in the U.S. by militant Islamic terrorist group al-Qaeda.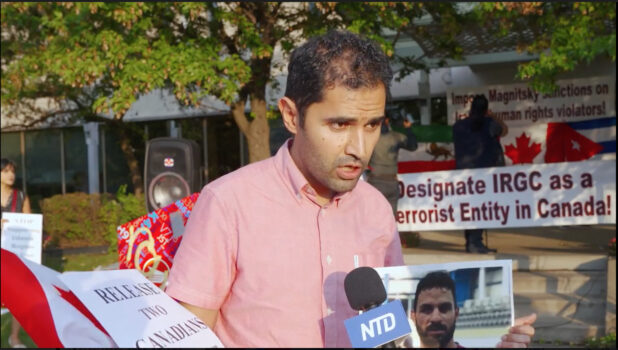 Sima, who was jailed by Iranian authorities in November 2009 for organizing protests following the disputed Iranian election of June 2009, said free countries such as Canada have to take action against tyrannical regimes or risk emboldening them.
"We saw how the Islamic regime, we saw how communist regimes work in our countries. We don't like to see that movie, that horror movie, that we saw in our beautiful homeland—we don't want to see them again in Canada," Sima told NTD Television, The Epoch Times' sister media.
Organizers also called on the Canadian government to impose Magnitsky sanctions on human rights violators.
Eugenio Landiro Reyes, a Cubans' rights activist who attended the rally, said he was there in solidarity with protesters of other dictatorial regimes because "we need to erase those systems from the earth."
"We need to erase those systems from the earth because they are not helping. They are not [helping] put the countries on the right track—to development, to enjoyment, to peacefully live your life."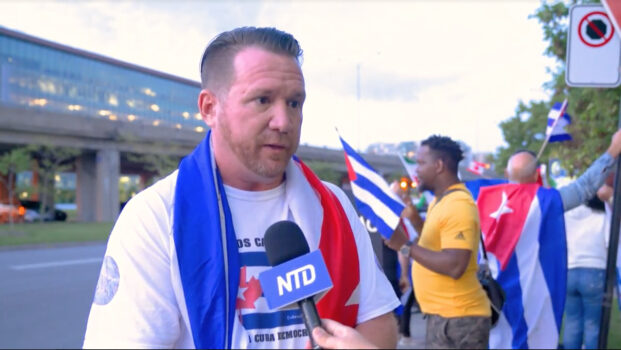 Landiro Reyes also called for an end to communist rule in Cuba, and for Canadians and the Canadian government to support Cubans calling for freedom.
In July, thousands of Cubans took to the streets in a number of cities, including the capital Havana, to protest against human rights abuses, a lack of freedom, and a worsening economic situation in the communist-ruled country led by Miguel Diaz Canel.
The demonstration came amid reports of gas, electricity, and vaccine shortages across the Caribbean island nation. Videos uploaded to social media showed demonstrators shouting "down with the dictatorship," "freedom," and "homeland and life."
In response to the demonstrations, Diaz-Canel ordered his security forces to disperse the demonstrators.
Canada Must Do More to Fight Terrorism, Corrupt Regimes: Activists
Activists at the rally called for the Canadian government to take concrete steps to address threats from terrorist groups and dictatorial regimes.
Sima called on the government to designate the Islamic Revolutionary Guard Corps (IRGC) a terrorist entity in Canada. IRGC was responsible for shooting down Ukrainian International Airlines Flight 752 in January 2020, claiming 176 lives, including 57 Canadians.
Avideh Rafaëla Motmâenfar, president of the Council of Iranian Canadians, demanded justice for the victims of Flight PS752 and called for sanctions on officials within the Iraninan regime, as well as the immediate listing of IRGC as a terrorist entity.
Sima criticized Liberal Leader Justin Trudeau for taking a soft stance on communist and dictatorial regimes, citing Trudeau's comments about his admiration for China's "basic dictatorship" and controversial handshake with Iranian Foreign Minister Javad Zarif, despite Iran's refusal to co-operate with investigations on the downing of Flight PS752.
Sima said the government must also do more for Canadian citizens Michael Kovrig and Michael Spavor, who have been arbitrarily detained in China since December 2018.
"You need to hold the Chinese regime accountable for holding Canadians hostage… you need to stand for Cubans, you need to stand for Iranians, and you need to stand for Canadians," he said.